Tutorial #1
Trust on Wheels – Towards Trust Management in the Internet of Vehicles
Abstract: The aim of this tutorial is to bring forth the essence of the notion of 'trust' in the context of the Internet of Vehicles (IoV) along with highlighting salient trustworthiness attributes which are indispensable for ascertaining the trust of a particular vehicle in an IoV network. In addition to the same, issues around optimally aggregating the trust attributes for ascertaining an accurate trust score of a vehicle and challenges pertinent to both static and dynamic thresholds which are employed for determining if a vehicle is categorized as trustworthy or untrustworthy in nature would be discussed. The tutorial would also highlight several sorts of malicious attacks which could adversely impact a trust-based IoV network along with their respective mitigation techniques. Open research challenges in the subject domain would be discussed too. By the end of this short tutorial, the audience would be equipped with the necessary skill set which would subsequently allow them to do a critical thinking for devising intelligent trust models on their own.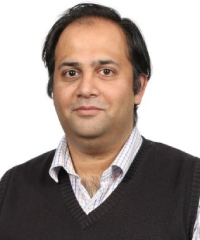 Dr. Adnan Mahmood
(Postdoctoral Research Fellow, Department of Computing, Macquarie University, Australia)
Presenter's Biography: Dr. Adnan Mahmood is a Postdoctoral Research Fellow with the Department of Computing, Macquarie University, Australia. Before moving to Macquarie University, Adnan has spent a considerable number of years in diverse academic and research settings of the Republic of Ireland (where he has carried research on a project funded under the auspices of the Science Foundation Ireland Research Centre for Future Networks and Communications), Malaysia, Pakistan, and People's Republic of China. Adnan, over the years, has produced several publications in the form of refereed book chapters, journal articles, and conference papers. He further serves on the Technical Program Committees of several reputed international conferences. Adnan's research interests include, but are not limited to, the Internet of Things, the Internet of Vehicles, trust management, software-defined networking, cloud computing, edge/fog computing, and next-generation heterogeneous wireless networks. He is a member of the IEEE, IET, and the ACM.
Link to the Presenter's Webpage:
https://sites.google.com/view/adnanmahmood
Overview of the Topic: Over the past few decades, the promising notion of Vehicular Ad hoc Networks (VANETs) has seen a remarkable progress primarily owing to the considerable advancements in both short- and long-range wireless communication technologies for guaranteeing Vehicle-to-Everything (V2X) communication in a bid to ensure that the performance requirements of both safety critical and the non-safety vehicular applications could be realized. V2X communication is a multifaceted ecosystem encompassing Vehicle-to-Vehicle (V2V), Vehicle-to-Infrastructure (V2I), Vehicle-to-Network (V2N), and Vehicle-to-Pedestrian (V2P) communication, thereby facilitating vehicles for not only communicating amongst themselves but also with the supporting roadside infrastructure, backbone network, and vulnerable pedestrians. This has, therefore, empowered the transformation of the old-fashioned VANETs into the Internet of Vehicles (IoV), wherein each entity of a vehicular network is connected to the Internet so as to address numerous shortcomings of the conventional VANETs, including but not limited to, coordination issues between the disparate vehicles traversing at a distance from one another, scalability, ubiquity, and information insufficiency resulting in a poor judgment particularly in safety-critical scenarios.
However, just as humans socially interact with one another and are always at grave risk of being exposed to false (untrustworthy) interactions, vehicles in an IoV network are also vulnerable to several malicious attacks, which if not mitigated, could result in a number of fatalities on the road. Over the years, several researchers from both academia and industry have proposed conventional cryptographic-based schemes utilizing certificates and public key infrastructures to address these issues. Nevertheless, cryptographic-based solutions are not optimal in the case of an IoV network since vehicles are highly dynamic in their nature and the availability of the supporting infrastructure cannot be guaranteed at all times. Also, cryptographic-based solutions can be compromised by poor key hygiene, compromised trust authorities, and insider attacks, which are insidious (i.e., their failure is not immediately evident) and so can cause catastrophic damage. Accordingly, trust management has been recently proposed by researchers in academia and industry as a way of separating messages and their senders into two disjoint categories: malicious and non-malicious. Trust is a derived quantity and thus needs to be assigned to each vehicle depending on its behavior and is regarded as the confidence (belief) of one vehicle in the vehicle in question and is computed as a weighted aggregate of a diverse range of trustworthiness attributes.
It is thus imperative to design intelligent trust models to detect and accordingly remove malicious vehicles from an IoV network so that secure traffic flows in the context of the smart cities could be realized.
This tutorial is further designed for audiences of all levels, i.e., senior undergraduate and graduate students, academics, and industry professionals.